Jaws
The people of Amity Island used to live a peaceful and quiet life in the small summer resort town. But now the people of the small town have become victim to a man-eating Great White Shark. The town officials hesitate to warn people about the shark for fear of losing business during their busiest time of year, Fourth of July weekend. So the shark is kept quiet from almost all of the town until someone is attacked in broad daylight and killed. Martin Brody, the chief of police, takes it upon himself to kill the shark, with help from Matt Hooper, a young marine biologist, and Quint, a shark expert. They sail out to sea, hoping to catch the shark dead or alive. Of course it all depends on whether the shark gets them first.
vs
Star Wars: Return Of The Jedi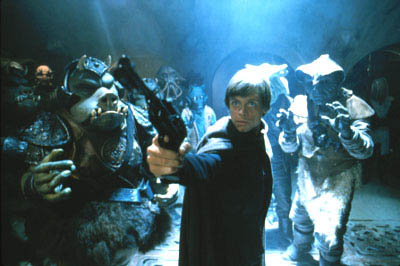 Darth Vader and the Empire are building a new, indestructible Death Star. Meanwhile, Han Solo has been imprisoned, and Luke Skywalker has sent R2D2 and C3PO to try and free him. Princess Leia - disguised as a bounty hunter - and Chewbacca go along as well. The final battle takes place on the moon of Endor, with its natural inhabitants, the Ewoks, lending a hand to the rebels. Will Darth Vader and the dark side overcome the rebels and take over the universe?