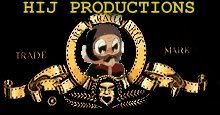 Announcer : And now PWF NEWS brought to you by the PWF News Team.....
Happosai the Anchor.... Wanderer on Weather.... Forgotten Sin our Entertainment Guru.
Happosai : Welcome everyone to PWF news, our top story for tonight ...
Sin : Where did you find the set?
Wanderer : We made it.
Happosai : HIJ Productions bought the rights to PWF News for a dollar fourty.
Sin : Well at least here nobody can tell me to get a job I have one.
Wanderer : Internship isn't the same as a job Sin.
Happosai : As i was saying our top story tonight a FAKE Happosai was discovered the other night during the PWF Mid Year Awards Show.
Sin : Congratulations to those who won.
Happosai : PWF News has learned that an actor named WEE-MAN posed as me and chased Brandy for her panties. Folks let me tell you that i would * NEVER * steal panties that are being worn.
Wanderer : Hanging up they're fair game.
Happosai : For those asking for proof of this I direct you to the video monitor, There I am being chased on foot by police aided by a helicopter at the exact time the PWF show went on the air.
Sin : They can't catch him heh.
Happosai : In fact hours after the show WEE-MAN was arrested at the local zoo for molesting a penguin. He was very drunk claiming that Dogcatcher never paid him the promised two dollars to pose as me.
Wanderer : Remember kids there's not many midget nuns, if it's three feet tall, black and white it may be a penguin.
Annoucer : And now a word from our sponsor. Buy the video SAM GONE MILD! Watch Sam gay up Tom Cruise's house and chase Katie Holmes away. buy it now on DVD.
Happosai : In other news Hunter S Thompson was arrested this morning in a hotel room when police acting on an anonomous tip broke down his door and found a bound and gagged Tom Cruise stuffed in the closet. Hunter had no comment and Cruise claims he was repeatedly sodomized with a toilet plunger.
Wanderer : Now the Weather, If you look to my left to the weather map you'll see we don't have one. SO try to picture last nights map in your mind. It's all about the same as yesterday only less clouds. remember if you don't like the weather.... MOVE!
Sin : In Entertainment news two new books were released this week Harry SNAPES KILLS DUMBLEDORF!!!! Potter and the half ass prince, and the other book written by Hulk Is Job! Titled " Bounce Pingu Bounce " It's the story of how a trophy was snatched away without a beaten score and the recapture of the gold from a rapper.
Happosai : It's a good read.
Sin : Hey wait a minute.... HIJ quit his job the other day... GET A JOB HIJ!!
Happosai : Heh HIJ has been working for 18 years in various jobs Sin and he's already working again.
Wanderer : Get a job Sin!
Sin : DOH!
Happosai : And now our man on the street Stick is in Washington following a HUGE protest of some sort. What's happening out there Stick?
Stick : Damn Happosai this crowd is angry and they are demanding lawmakers in DC to take care of this problem. The crowd has signs and wait they want to yell thier message to the folks watching at home let's turn the camera and see what they have to say.
Crowd : GET A JOB SIN!!!!
Stick : Back to you guys.
Happosai : Well that's all the time we have goodnight everyone.