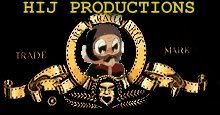 Featuring the posters of PWF:
Randy Orton
Hulk Hogan
Sam
Wanderer
O-E-O
STICK
And Starscream's ghost as "The Beaver".
Episode 3:5 " Speech "
** The guys arrive at the castle and OEO makes them wait in the waiting room **
Stick : Man this is boring.
Starscream : Who'de have thought a castle would have a waiting room.
Sam : I feel like i'm at the dentist.
Randy Orton : I'll get the drill.
Hulk Hogan : I'll turn on the TV brothers.
Wanderer : Hey where'de Happosai go?
Sam : He was here a minute ago.
** Hulk turns the TV on and the BBC news shows Paris Hilton on fire, as her face melts her nose falls off and Michael Jackson steals it **
Jackson : New nose slightly singed mine now HEE HEE!!
Stick : Heh she's still on fire.
Randy : I wouldn't piss on her to put her out.
Wanderer : They seem to be too busy roasting marshmallows over her head to put her out.
Happosai : Hey there's not one frilly underthing in this dump just some granny panties from some fat baron's wife.
** The station goes to a SPECIAL REPORT for George W Bush's next speech **
Hulk : Dude this sucks he's on every channel.
Happosai : Wonder what the monkey has to say.
** ON the TV the words " Mister Bush's Neighborhood " is shown and he comes singing into a living room **
GWB : It's a beauteful day for an ensurgen-c a beauteful day for an ensurgen-c. will you be mine? Won't you be my victim??
Hello boys and girls i'm Mister Bush and ... hey Condi i can't get these shoes off.
Condi : Oh for pete's sake George they're VELCRO we showed you how before we went on the air.
GWB : Oh now i get it, wow look at that it's amazing isn't it Tankie?
** A miniture Abrams tank rolls across the windowsill and toots **
GWB : Today kids we're going to the land of make belive it's not happening.
We're going to see some terrists can you say terrists?
Stick : WTF is this a lame copy of PBS?
Happosai : Pass the popcorn this is pure comedy.
** George ends up in the land of make belive it's not hapening and meets his puppet friends **
GWB : Hello Saddam. How are you today?
Saddam : Hello Satan, i'm doing OK..... here have.. a pretzel.
GWB : I'm sorry Saddam pretzels are part of the axis of evil snack foods and my mom says i can't eat them.
Osama : George where is my money? I was promised money.
GWB : I don't have it Osama... we invested it in making Iraq kids safe.
Saddam : That is a nice thing to do, what did you invest it in?
GWB : Well when I ride my bike i fall off which made my mommy take my bike away. So we made special air bag jackets for Iraq children.
Osama : BRILLIANT!
Saddam : How do they work?
GWB : Well you place them on the child and when they fall and hit the ground a stick of TNT goes off which deploys the airbag.
Cheney : Halliburtan Made guarenteed to last a lifetime or my money back.
** OEO comes out of the office looking confused and Stick turns off the TV **
Stick : What's the matter man?
OEO : They said my uncle the baron Flloyd isn't dead yet and that i have to visit him in the hospital.
Wanderer : So no castle?
OEO : Not yet... let's go visit him and find out what's going on.
** The guys jump in the rented minivan and head to the hospital **